How to solve the commutation of overhead travelling cleaner
Views:7 Author:Site Editor Publish Time: 2019-03-19 Origin:Site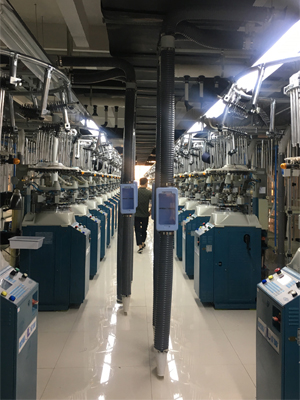 Overhead travelling cleaner is popular with textile machines now, such as spinning machines, roving frames, winders, air spinning, even looms, hosiery machines and warping machines. It makes the textile workshop clean and tidy.
But there are also many problems. Overhead travelling cleaner comes to the end, it must return automatically. But sometimes it can't return automatically. How to solve it? In fact, there are many reasons for not switching. Nantong Huipei New Material Technology Co., Ltd. summarizes the following reasons for you:
1. The dragon belt is loose. The dragon belt has a certain extension. After half a month of normal use, the total length of the dragon belt is extended. Therefore, it is necessary to adjust the distance between the motor wheel and the tail wheel so that the belt continues to be in a tight state.
2. The dragon belt is old and slippery. In this case, the dragon belt has been used for too long. It is necessary to change a new dragon belt.
3. The dragon wheel is smoothed and slippery. The dragon wheel has three arcs, and there is a difference in diameter and knurling. Once it is smoothed, please replace a new dragon wheel.
4. The commutator tile is damaged. Please make sure there is no obstacle to block the cleaning machine.
5. The commutator ball is stucked, there may be some debris in the machine, please chean in time. And you'd better to add a blower to blow the main parts.